---
Weather
Adjectives with ser - It's a windy day.
You should already know the weather adjectives from the previous lesson.
Look for related verbs, adjectives, and nouns:
· verbs - it rains, it snows
· adjectives - rainy day, snowy day
· nouns - the rain, the snow
Make sure to SAY every answer in Spanish before you click it.
Vocabulary Detour
---
Units of Time
morning, afternoon, night/evening, early morning, day, week, month, season, year
MATCH IT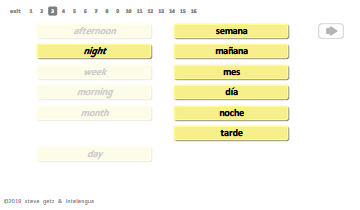 [display-frx-data id=20845 filter=limited]
Part 1
---
Adjectives to Describe Units of Time
cold, cool/fresh, warm/hot, clear, cloudy, sunny, windy, snowy
SPELL IT - A SUNNY DAY!
This activity is designed to include sound files, but they aren't ready!
In Spanish, determining adjectives like "this..." and "several..." come before the noun (just like in English), but descriptive adjectives like "windy" and "sunny" usually come after.
The cursor starts before the noun, and after typing the determining adjective, you have to press the space bar twice to move the cursor behind. Then you can type descriptive adjective.
Also note: since these two-word answers are unusually long, it will only make you re-do the answer once. However, the second time the "next" key will be disabled!
[display-frx-data id=20846 filter=limited]
Part 2
---
The Verb "Being" ser
is, was, will be, would be, has been, had been, etc.
MATCH IT - IT IS A SUNNY DAY
These sentences use forms of the verb "es" (instead of "está").
Make sure to read the notes on the first screen of practice.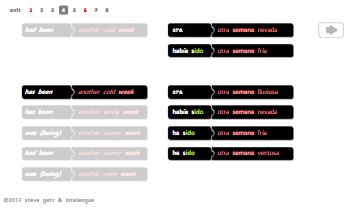 [display-frx-data id=20847 filter=limited]