---
VIDEO SUMMARY OF DISSERTATION
PREVIEW FOR A.C. QUINTERO
This is a long video, but the main idea is shown in the first 90 seconds.
THE PHILOSOPHY
0 min 0 sec - Introduction
1 min 35 sec - Red Herring #1
6 min 12 sec - Red Herring #2
9 min 39 sec - 3 sets of Examples
14 min 11 sec - Written Accents
15 min 38 sec - Diphthongs & Hiatus as Essential Background Knowledge
18 min 14 sec - Roots Ending in -S and -N
20 min 37 sec - Dueling Paradigms (The Traditional vs. The New)
THE METHOD
25 min 41 sec - The Method - Step 1
28 min 16 sec - The Method - Step 2
31 min 00 sec - The Method - Step 3
---
'FONDAMENTOS' OVERVIEW
The most helpful feedback would be on the two videos from Step 1 (Step 1-A and Step 1-B), and feedback can be very brief, just a few sentences. (Trying out the practice yourself is not necessary.)
Note that the 3 steps from the video summary of dissertation above has been further divided into 4 steps.
¡Gracias!
As a teacher, you can complete this preview in one sitting, but keep in mind that this 3-step pronunciation module is designed to be spread out over about 2 weeks: one full class period to get started, then moving forward mostly as homework: "OK, tonight, work through the practice set on musical instruments so you are ready to use the words tomorrow... it should take you about 15 minutes." or "Tonight watch the 8-minute video for Step 2, and pick a practice set that interests you, so about 20 minutes total."
The most aggressive implementation would be over 4 days, and again, primarily as homework. The drawbacks to a 'cramming' implementation are many, one being that the students will miss out on the extra cognate-vocabulary sets, which are a great foundation for using the language.
Even as a teacher previewing the scope and sequence of the module, I actually recommend that you split it up over 3 days and let the ideas from each step marinate during the 24-hour break.
Students certainly can watch the videos themselves as self-study or as a class, but they are primarily for teacher training in this method: once you know the technique, you can explain the concepts any way you see fit, and with all the target language you can squeeze in.
If I go over a vocabulary set in class, we can do a demonstration practice set together. When students are familiar with the concepts and the layout, they can work together in groups of 2, and beforehand we have a large set of key expressions and vocabulary to work through it in the target language, such as where?, here, there, right before, consonant, vowel, how many?, which?, and of course a lot more.
STEP 1: HOW MANY SYLLABLES?
(COUNTING BEATS / COUNTING VOWELS)
---
WATCH IT - VIDEO LESSON & INSTRUCTIONS (PART A)
COUNT IT - SOME FIRST NAMES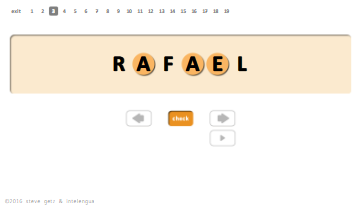 · Open the practice activity by clicking on the thumbnail, but make sure you've watched the video all the way through first: the explanation is not the traditional one you've heard before.
· In Step 1, there are over 15 sets of fun, challenging names and cognate vocabulary, including animals (rinoceronte, tortuga), musical instruments (piano, oboe), world countries (Suecia, Israel), and world cities (Tokio, Lisboa, Reikiavik, Estambul).
· Any set can be spun into an engaging proficiency-focused activity. Saying the words is not enough: the possibilities of really using the vocabulary are endless.
STEP 2: FINDING THE STRESS
(HEARING THE RHYTHM / HITTING THE TARGET)
---
WATCH IT - VIDEO LESSON & INSTRUCTIONS (PART B)
· This video refers to two versions of the same practice set, which aren't included on this "teacher preview" page. However, feel free to do the above practice set again ("Some First Names"), and this time through, think about finding the stressed vowel using the new method. At first it can be hard to stop thinking the old way!
Although your feedback is welcomed and would be greatly appreciated, previewing Steps 2 and 3 is completely optional, and it is best saved for another day.
¡Gracias!
STEP 3: REVIEW
---
WATCH IT - VIDEO LESSON & INSTRUCTIONS
HIT IT - HISPANIC FOODS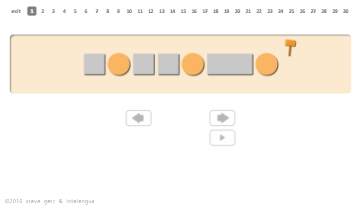 STEP 4: WRITTEN ACCENTS
(HEARING THE RHYTHM / MISSING THE TARGET)
---
WATCH IT - VIDEO LESSON & INSTRUCTIONS
HIT IT OR MISS IT? - SOME FIRST NAMES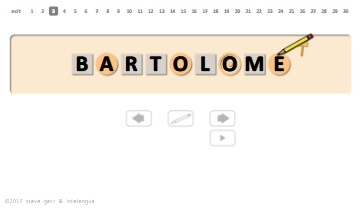 HIT IT OR MISS IT? - COUNTRIES (SET #2)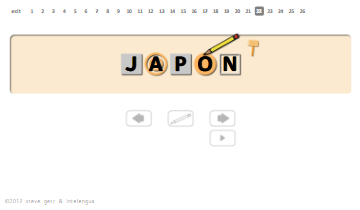 HIT IT OR MISS IT? - WORLD CITIES