---
'FONDAMENTOS' PREVIEW - VOWELS (SYLLABLES, DIPHTHONGS, HIATUS)
Please note that this 'soft' introduction to syllables does not address syllable division but rather the number of syllables, i.e. 'counting the beats'.
The video lesson was designed as an on-line learning module for teens and adults studying Spanish, but certainly can be a training tool for Spanish teachers, who can present the concepts any way they see fit.
¡Gracias!
STEP 1: HOW MANY SYLLABLES?
(COUNTING BEATS / COUNTING VOWELS)
---
VIDEO LESSON & INSTRUCTIONS (PART A)
PRACTICE - SOME FIRST NAMES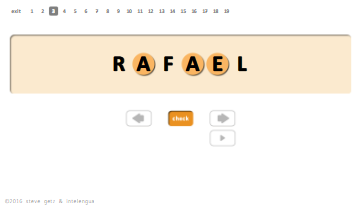 · Open the practice activity by clicking on the thumbnail, but make sure you've watched the video all the way through first: the explanation is not the traditional one you've heard before.
· In Step 1, there are over 15 sets of fun, challenging names and cognate vocabulary, including animals (rinoceronte, tortuga), musical instruments (piano, oboe), world countries (Suecia, Israel), and world cities (Tokio, Lisboa, Reikiavik, Estambul).
· Any set can be spun into an engaging proficiency-focused activity. Saying the words is not enough: the possibilities of really using the vocabulary are endless.