---
PRONUNCIATION
COUNT IT - MONTHS & DAYS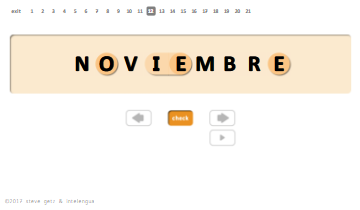 Some of these words have a written accent, which tells you a rule is being broken. Make sure to read any notes.
HIT IT OR MISS IT? - SOLAR SYSTEM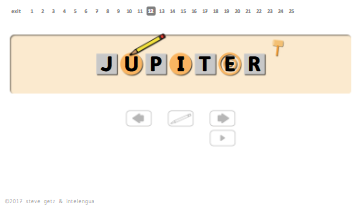 ---
OVERVIEW OF VERB TENSES
IRREGULAR VERB: GOING
MATCH IT
BUILD IT - SPANISH TO ENGLISH
---
GRAMMAR & SYNTAX - OBJECT OF PREPOSITION
MATCHING - SPANISH VERB WITH SPANISH PREPOSITION PRACTICE "WAS"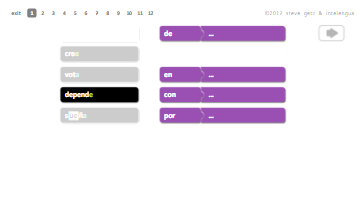 SEE IT PRACTICE "WAS"
---
HOUSE AND ROOMS
home_0060_en_donde_a_donde_cuartos
¿DÓNDE ESTÁ?
donde_esta_0010_simple_intro_tambien_tampoco
donde_esta_0013_basic_places_intro_present
donde_esta_0016_todavia_ya_no_basic
donde_esta_0017-A_todavia_ya_no
donde_esta_0017-B_todavia_ya_no
donde_esta_0021_basic_places_esta_ha_habia_estado
LAS PERSONAS - LAS EDADES
age-0017-A-ya-no-todavía-no-intro-basic
age-0017-D-ya-no-todavía-no-ONE-AT-A-TIME