---
To make this easier, I just copied and pasted the thumbnail links!
I included 4 things to do each day.
OVERVIEW OF VERB TENSES - TALKING ABOUT MYSELF
FROM VERB SET #9 (REVIEW)
repress, oppress/press,
inhibit, expel,
interrupt, suspend
BUILD IT
MATCH IT
---
GRAMMAR & SYNTAX - OBJECT OF PREPOSITION
'Power' Prepositional Phrases
MATCHING - HOW? WHEN? WHERE?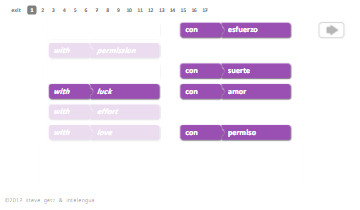 Common Spanish Verbs Used with Prepositional Phrases