---
COURSE 3 - OVERVIEW OF TENSES - CONTINUED
LESSON 3
HEAR IT - BLUE - VOCABULARY SET #12 - 00411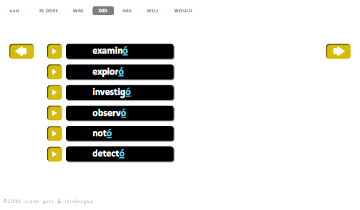 [display-frx-data id=23736 filter=limited]
BUILD IT - BLUE - VOCABULARY SET #12 - 00411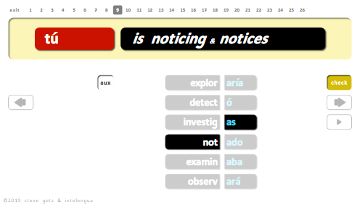 [display-frx-data id=23737 filter=limited]
SEE IT - BLUE - VOCABULARY SET #12 - 00411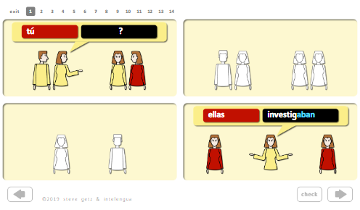 [display-frx-data id=23738 filter=limited]
MATCH IT - MORE BASIC SUBJECTS - THIS/THAT/THESE/THOSE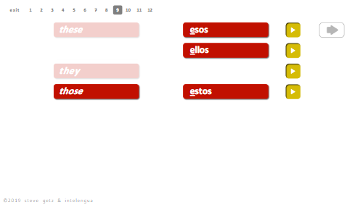 [display-frx-data id=23739 filter=limited]
BUILD IT - VOCABULARY SET #11 - MORE BASIC SUBJECTS - THIS/THAT/THESE/THOSE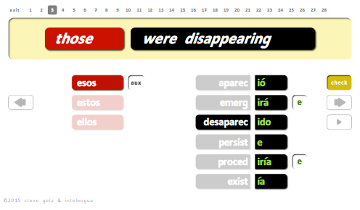 [display-frx-data id=23740 filter=limited]
-
-
-
-
· If you started the previous version of the program, you can still scroll down to see it, although it won't quite be in sync with the days that have been revised, but it's pretty close.
-
-
-
-
-
-
-
-
REVIEW
---
VERB SET #11 (CONTINUED)
gain, procure,
collect, select,
accumulate, recooperate
offer, provide,
vend/sell, cede/yield
submit, remit
CHOOSE IT - BLUE & GREEN FAST
USING VERBS WITH THE SUBJECT "TÚ" (CONTINUED)
---
THE BLUE PATTERN
TRANSLATE IT
SPELL IT
THE GREEN PATTERN
TRANSLATE IT
SPELL IT
FOCUSED PRACTICE - "DID"
· The verb forms to say what someone did merit extra attention and practice. Why? Because unlike all the other forms, you can't just add the one-letter suffixes "-N" and "-S"!
SEE IT - BLUE & GREEN