---
COURSE 3 - OVERVIEW OF TENSES - CONTINUED
LESSON 1
WATCH IT - VIDEO LESSON #8 - THE STRESSED VOWEL
[display-frx-data id=23725 filter=limited]
HEAR IT - BLUE - VOCABULARY SET #10 - 00410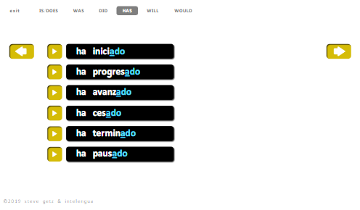 [display-frx-data id=23726 filter=limited]
FIND IT - BLUE - VOCABULARY SET #10 - 00410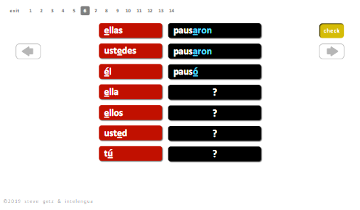 [display-frx-data id=23727 filter=limited]
BUILD IT - BLUE - VOCABULARY SET #10 - 00410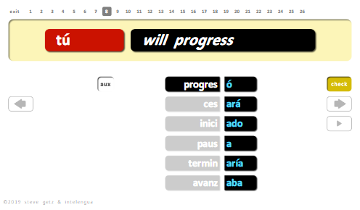 [display-frx-data id=23728 filter=limited]
FIND IT - GREEN - VOCABULARY SET #6 - 00420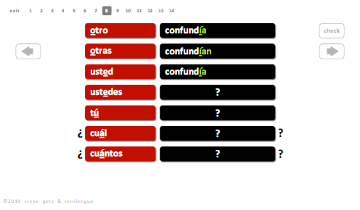 [display-frx-data id=23729 filter=limited]
TRANSLATE IT - GREEN - VOCABULARY SET #6 - 00420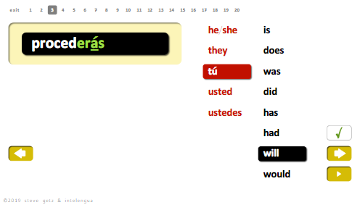 Perhaps you didn't realize it, but in English, the word "you" takes a plural verb: "he is, they are, you are" or "he was, they were, you were".
But in Spanish, the singular "you" takes a singular verb ("usted is, tú is" or "usted was, tú was"). And only a plural "you" takes a plural verb ("ustedes are" or "ustedes were").
Employ this 'Spanglish' strategy throughout this program, even though it may seem strange at first.
[display-frx-data id=23730 filter=limited]
-
-
-
-
· If you started the previous version of the program, you can still scroll down to see it, although it won't quite be in sync with the days that have been revised, but it's pretty close.
-
-
-
-
-
-
-
-
· You already know that to make a verb plural, usually adding the one-letter suffix "-N". (There's only one exception!)
· While the one-letter suffix "-S" makes a noun plural, today you'll learn when to add an "-S" to a verb.
VOCABULARY & PRONUNCIATION
---
VERB SET #10
negotiate, deliberate,
converse, dialog,
consider, contemplate
discuss, debate,
understand, respond,
concede, desist
HEAR IT
VIDEO LESSONS #5
THE SUBJECT "TÚ"
---
WATCH IT #5-A
WATCH IT #5-B (The Stressed Syllable)
USING VERBS WITH THE SUBJECT "TÚ"
---
THE BLUE PATTERN
WATCH IT - VIDEO INSTRUCTIONS
FIND IT
SEE IT
THE GREEN PATTERN
FIND IT
SEE IT