---
COURSE 2 - OVERVIEW OF TENSES - CONTINUED
LESSON 3
SUGGESTED REVIEW Before starting this lesson, consider reviewing the 4 ways to ask, "What's happening?" in the previous lesson, particularly the "Match It" practice...
---
MAKING VERBS PLURAL
It's easy to take a noun like "taco" and make it plural. To turn one "taco" into two or more, just add the suffix "S": "tacos".
It's just as easy and intuitive to make most verb forms plural: simply add a one-letter suffix, but it definitely isn't the suffix "S"!
WATCH IT - VIDEO LESSON #6 - MAKING VERBS PLURAL
[display-frx-data id=23683 filter=limited]
---
MAKING VERBS PLURAL - PRACTICE
MATCH IT - GREEN - 00320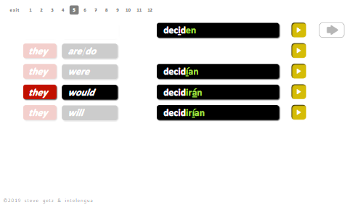 [display-frx-data id=23684 filter=limited]
---
NEW VOCABULARY - BASIC PLURAL SUBJECTS
MATCH IT - BASIC PLURAL SUBJECTS - 00915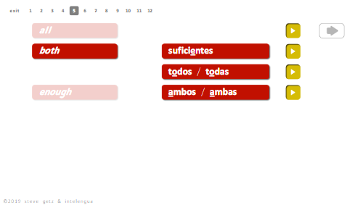 [display-frx-data id=23685 filter=limited]
---
MAKING VERBS PLURAL - PRACTICE
WATCH IT - VIDEO INSTRUCTIONS (BUILD IT)
[display-frx-data id=23686 filter=limited]
BUILD IT - BASIC PLURAL SUBJECTS - 00915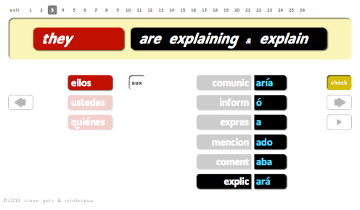 [display-frx-data id=23687 filter=limited]