---
COURSE 1 - OVERVIEW OF TENSES
Lesson 1
· This lesson is short... you'll probably want to jump right into Lesson 2 immediately after!
The video lesson is only an introduction to the concepts you'll be mastering over the next week. You're doing fine if you can simply follow along.
The entire program goes with a reference book, "The Smart Book of Spanish Verbs", but it definitely is not required. In fact, if you want a copy for yourself, we suggest waiting until you finish all 4 courses of this regular verb module.
WATCH IT - VIDEO LESSON #1 - INTRODUCTION
[display-frx-data id=23625 filter=limited]
Don't 'study' this activity. Just poke around a bit and see what's there!
HEAR IT - BLUE - 00110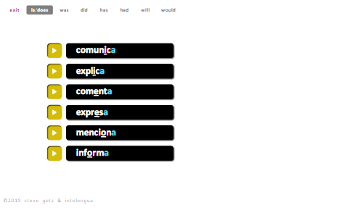 Click on the activity thumbnail to start it...
[display-frx-data id=23626 filter=limited]